AKAH 2016/2017
Dear Customer
We are proudly looking back to an extraordinary successful year. We succeeded in all parts of business, regardless if domestic or abroad, if in the fields of hunting, shooting sport or public authorities.
We thank all of our staff for their commitment and we are grateful for your, our customer's, trust.
Our product mix has been well accepted by our customers. We are constantly working to improve our program quality and adapt to changing circumstances. So the discussions about the shooting with lead free ammunition led to an extended range. We can offer three lead-free bullets of Brenneke, Lapua and Winchester. Also we broadened our suppressor range of Stalon and B & T.
Another milestone is the expansion of our portfolio by the world-famous Czech brand CZ. CZ strengthens our product range for sports pistols and hunting rifles. For the shooters, we have enlarged the product range with the arms of Carl Walther and Hämmerli.
We hope you will enjoy browsing in our catalogue.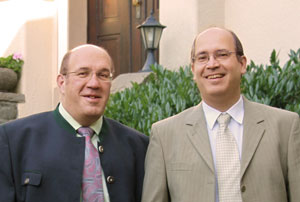 Gummersbach-Hunstig, August 1st 2016
Albrecht Kind GmbH
Manfred Kind (C.E.O.) and Helmut Kind (C.E.O.)