Waste batteries
Please dispose of your old batteries and rechargeable batteries as required by statutory regulations at a municipal collection centre or at a local dealer. The disposal of batteries along with ordinary household waste is prohibited and against the battery law. The disposal is free of charge. Of course you can also return the batteries purchased from us after use free of charge. The return shipment of the batteries addressed to us must always be sufficiently stamped. Return of batteries should be addressed to:
Albrecht Kind GmbH
- waste batteries -
Hermann-Kind-Straße 18-20
51645 Gummersbach
Deutschland / Germany
Email: info@akah.de
Tel. No.: +49 2261 - 705-0
Fax No.: +49 2261 -73 540
Batteries and rechargeable batteries containing hazardous materials are clearly marked with the symbol of a crossed-out rubbish bin. The chemical name of the pollutant can be found below the rubbish bin icon – for example "Pb" for lead, "Cd" for cadmium" and "Hg" for mercury.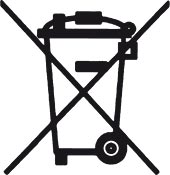 You can also find this information in the documents accompanying the consignment or in the manufacturer's instruction. For more detailed information on battery law please contact the Federal Ministry for the Environment, Nature Conservation, Building and Nuclear Safety (www.bmub.bund.de/N49471-1/) .